It feels like it's been a while since we've had a standard themed mafia game and this might be that
Get ready for some mollusc on mollusc violence
First of all the standard rules
Section 1: How to play the game
1. At the start of the game, every player will receive a role PM telling them what their role is, and mafia members will be told who the other mafia members are.
2. The game will consist of alternating night and day phases, starting at Night One. Night phases last 24 hours, and day phases last 48 hours.
3. During the night, players can send night actions by responding to their role PM with their action. In addition to night actions listed in each role description, the mafia can collectively choose one player to kill every night.
4. During the day, all living players can discuss in the thread to determine their next course of action. Anyone can post "Vote: PlayerName" to cast a vote to lynch that player. At the end of the day, if more than 50% of the living players are voting for the same player, that player will be lynched.
5. When voting for who to kill at night, the mafia member that actually performs the night kill is decided by the mafia. This is done by having the visitor of their choice include that they will be the visitor in their night action PM. If none do so, the last mafia member to vote will visit.
6. When a player dies, their role will be revealed in the thread.
7. The village wins when all mafia members and other threats to them are dead. The mafia wins when the number of mafia members is equal to half of the living players. All third parties have unique win conditions explained in their role description.

Section 2: What not to do
8. If you have a night action, and you don't post or send any actions for three consecutive phases, you will be inactive killed. If you don't have a night action, you'll be inactive killed after missing two consecutive day phases. Players killed by inactivity do not win, even if their win condition is met.
9. Don't do metagaming. That's when you use info like "Oh, that guy is using the PM system shortly after the night began! He must have some sort of night action!" Metagaming has many forms, so if you think something might be metagaming, check with the host first.
10. Play for your side. If your actions are obviously aiming to sabotage your team's chances of winning, that is bad. If you think something might count as playing against your side, ask the host if it is.
11. Don't post in the thread at night.
12. Don't post anything that could influence the game after you're dead. This also applies if you aren't in the game at all.
13. Don't copy and paste or screencap anything sent to you by the host or other players as a form of evidence. This is to make your information not super easy to confirm.
Callie & Marie (cop): Idols/news broadcasters turned military generals. From their time on the Inkopolis news they've honed their abilities to recognise colours and once per night can visit a player to determine their affiliation.
Judd (Modified Santa): Technically not an inkling but friendly enough to be village, he and his son(?)/friend(?)/clone(?) Lil Judd score the turf wars and matches the inklings fight in. They also give out some rewards and therefore once per night you can visit a player to give them either a gun which can be fired to splat a player, a vest which can protect a character from a splatting once or a crystal ball which a player can use during the day to pick a player and upon their death reveal the role of that player. However you can only give out each item once and a player may not have more than one item.
Pearl & Marina (Town Crier/Miller): The two members of Off the Hook and current hosts of Inkopolis News at least until Splatoon 3. Using your platform you can send messages to the host that will be announced anonymously during the day. Due to Marina's true nature as an octoling though if investigated by the squid sisters you'll appear as mafia (Pearl is guilty by association).
Inkling (villager): The regular citizens of Inkopolis who are squids that have evolved to take on a humanoid form. Frequently fight in turf wars and other matches but are otherwise unremarkable. Can vote in the daily
DJ Octavio (Modified Yakuza): The evil leader of the Octarian army. As of Splatoon 2 he's got hypnoglasses and once per game you can visit a player at night to convert them into an Octotrooper but in the fight to do so one Octarian other than you will be splatted (prioritised octotroopers before octolings).
Octoling (Hooker): The Octarian equivalent to an inkling and some of its army's strongest soldiers. Once per night you can set off an ink bomb near a player which will slow their movements so much that they can't perform their action that night.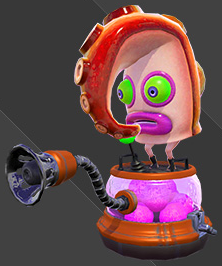 Octotrooper (Goon): The standard soldier in the Octarian army. Comes in many variants but has no particularly outstanding features.
Commander Tartar: The villain of the Octo Expansion of Splatoon 2. A sentient AI with a disdain for both inklings and octolings and a plan to create a greater form of life. Once per night you can visit a player to sanitise them. Sanitised players become third party and lose all other abilities they previously had but can still vote and use items. If you die then all currently sanitised players will also die. You win and end the game when the majority of all living players are sanitised.
Sign-ups:
1.
Anemone
Sanitised Octotrooper
Lynched day 2
2. Kitkat
3. Tailsimp
4. pkmnMasterWheeler
5.
Akane
Pink Inkling
Splatted N3
6. Cirr
7. Pluslefan
8.
Overkill
NorhianSamur
Judd
Shot D3
9.
Ashtraycomics
-
DJ Octavio
lynched D1
10.
theCape
-
Pink Inkling
splatted N1
11. Alolan Floatzel
12. Undyne
13. 0 Anonymous
14.
Speed the Torterra
Pearl
Inactive
15. Mr.EtheComic
16. Cornibot
17.
EeveeFTW
-
Green Inkling
splatted N2
Starting split: 12/4/1
Speed list: Inkling->Tartar->DJ Octavio->Judd->Squid Sisters->Night Kill
Last edited: